Project of the Month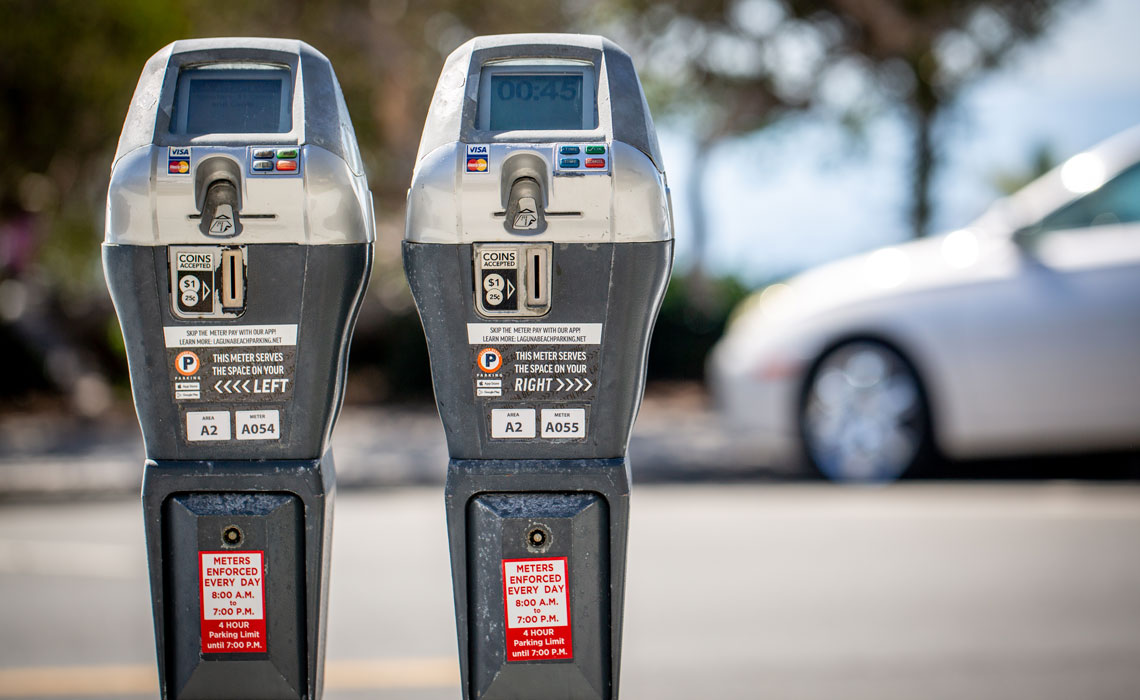 Parking Meters – Outdoor Decals
Project Description
Design and print outdoor decals with functioning QR codes, that are customized to fit various parking meters.

Municipalities like Los Angeles, Santa Monica, Laguna Beach, etc are embracing new technologies in many ways. One prominent way is the implementation of digital interfaces with parking meters, and in some cases, mobile apps that allow you to add time to your meter remotely. This digital solution still calls for high-quality outdoor labels, waypoint signage, and interface graphics to work successfully. In the case of "pay by app" parking meters, sequential stickers with unique QR codes have to be printed accurately.

Parking meters have undergone dramatic changes over the years. The majority of parking meters nowadays are powered by solar energy and accept credit cards. What normally goes unnoticed, are the parking meter decals. These decals are needed to give people directions of operations and to label buttons as well.

Decals/labels covering buttons are called interface graphics, and they need to be sturdy enough to withstand everyday use and UV rays from the sun.
Every city has different logos, colors, hardware, and needs. We, therefore, design completely unique graphics, customized based on each client's specific needs.

Cities and companies who are utilizing sequential QR codes or barcodes for parking meters or any other label, require precision and attention to detail. Each QR code has to match the parking meter it's on correctly or the entire system won't work properly. One misprinted sticker could cause major problems in implementing the pay remotely feature.

Difficulties
Using the right materials and printing techniques to ensure longevity. This isn't easy to do with outdoor graphics. We accomplish this by printing UV resistant toner on engineer grade reflective vinyl and then using a strong UV overlaminate to further protect the stickers.
Unique functioning QR codes. This is another challenge for most printers, who have to "manually" add each QR code to each decal, a prohibitively inefficient process. We circumnavigate this problem with a careful use of technology. Our graphics are encoded with information from a spreadsheet and then generated into a QR code printed directly on our decals. This is without the expensive set-up cost per unique label, which is usually associated with printing QR codes.
Getting the stickers to line up properly with the machines when installed. Especially when the customer or installer has to apply the decal. When you're shipping decals nationwide you won't always be able to install the decals yourself. So we take this into consideration when designing decals for our customers. We will include instructions that correspond with the specific shapes and curvatures of the machines themselves. You can see from our images below all the different shapes and sizes of the stickers needed for one parking meter!

Customer Reception
★ ★ ★ ★ ★
I don't think we could have made this project work without help from DMS. We were just looking to get our stickers printed, but their design expertise proved more than valuable. They designed the parking meter decals the way we asked, and they also submitted their own take on the design. Their designs were far superior and we ended up using them all. Who knew printing new decals could be such a big ordeal! Anyways, they honestly went above and beyond for us every step of the way, from design to printing.
Size

Ten uniquely shaped stickers 2.875″ x 2.25″ and smaller

Media

Engineer grade reflective

Color

2 spot colors: black & teal

Laminate

3M UV caste matte overlaminate

Adhesive

Permanent solvent adhesive

Durability
Work Required

Design
Printing
Applying transfer tape
Die-cutting the decals
Before, during, & after images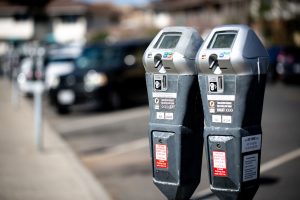 Previous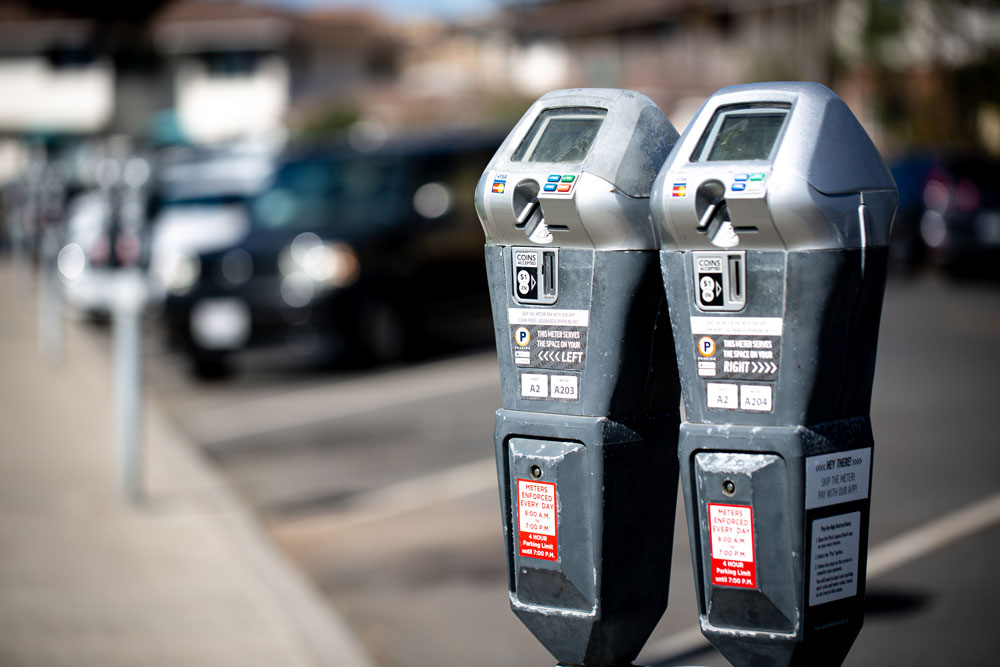 Next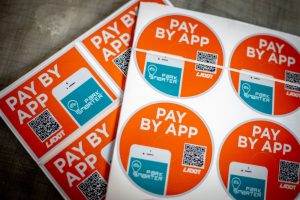 Previous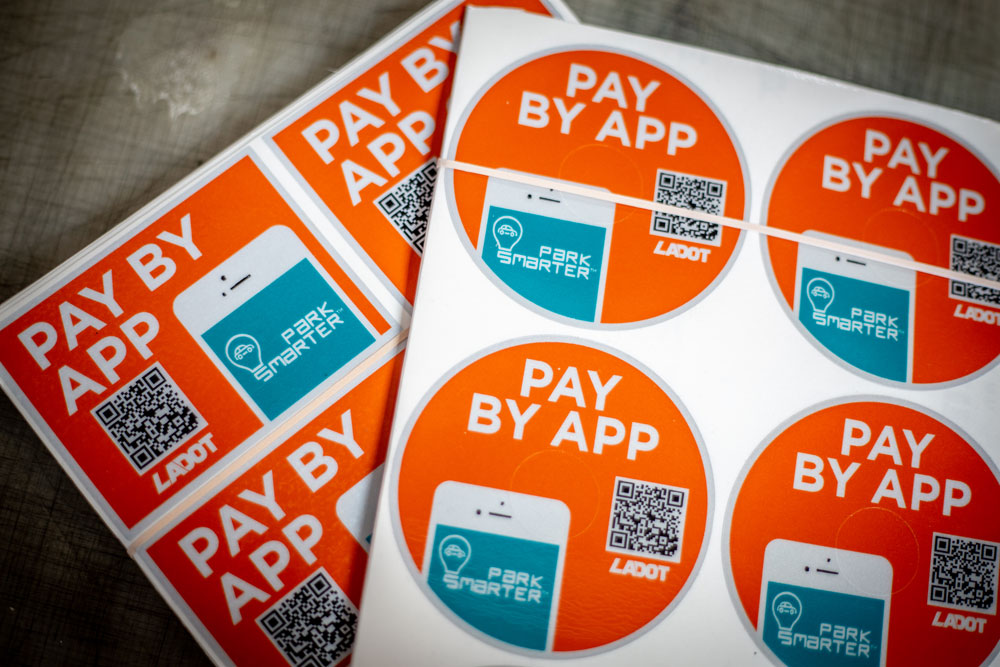 Next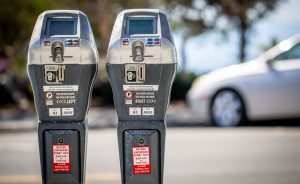 Previous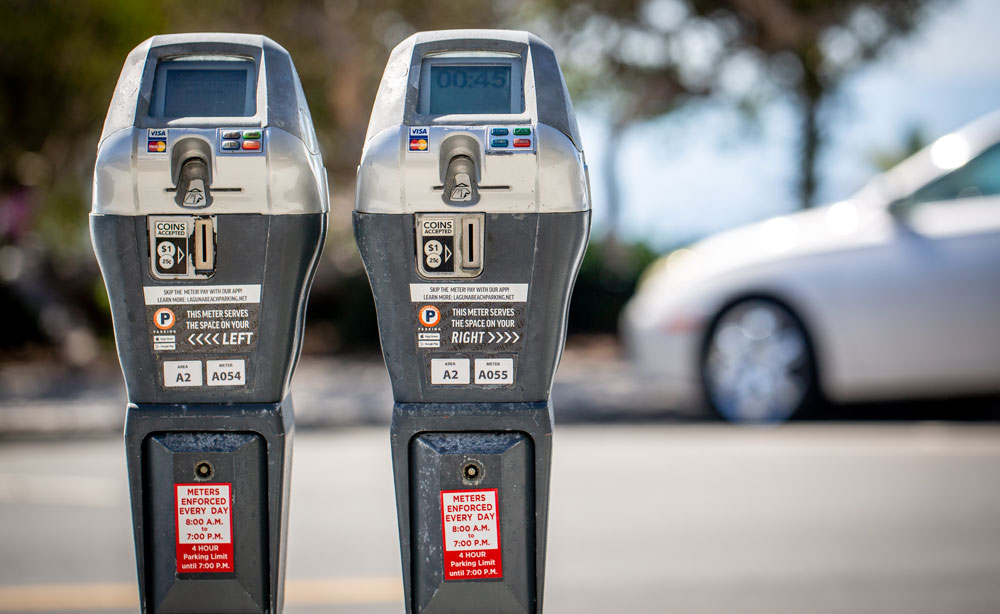 Next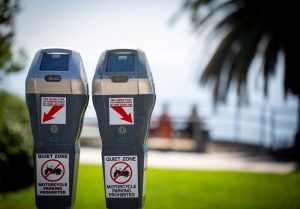 Previous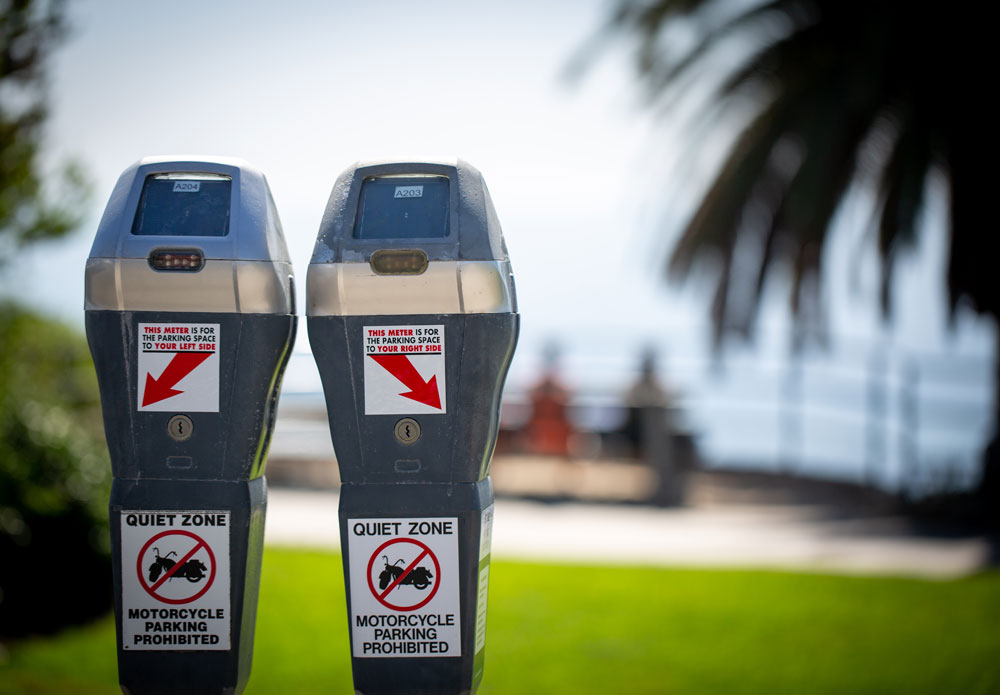 Next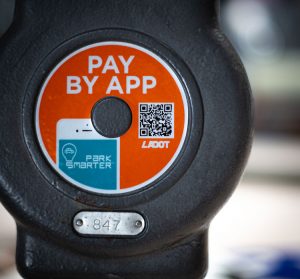 Previous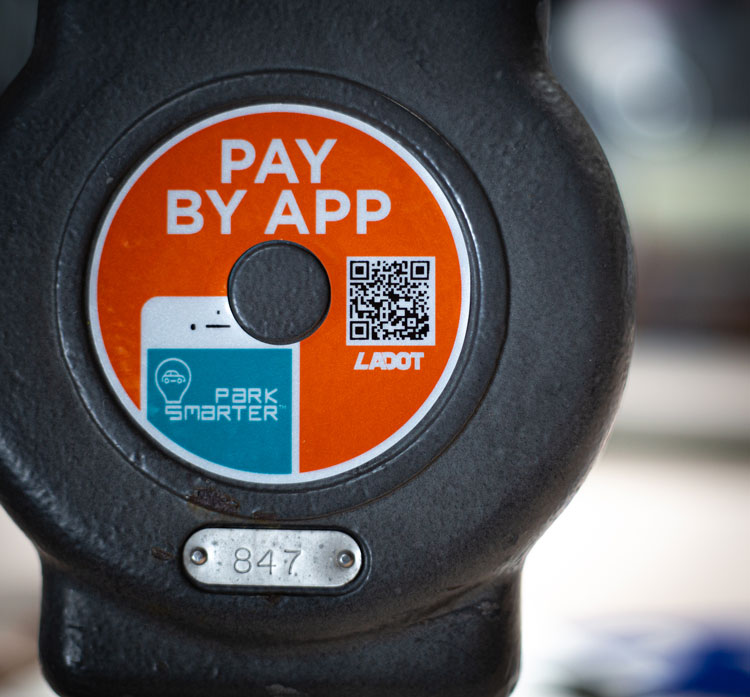 Next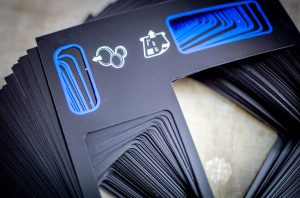 Previous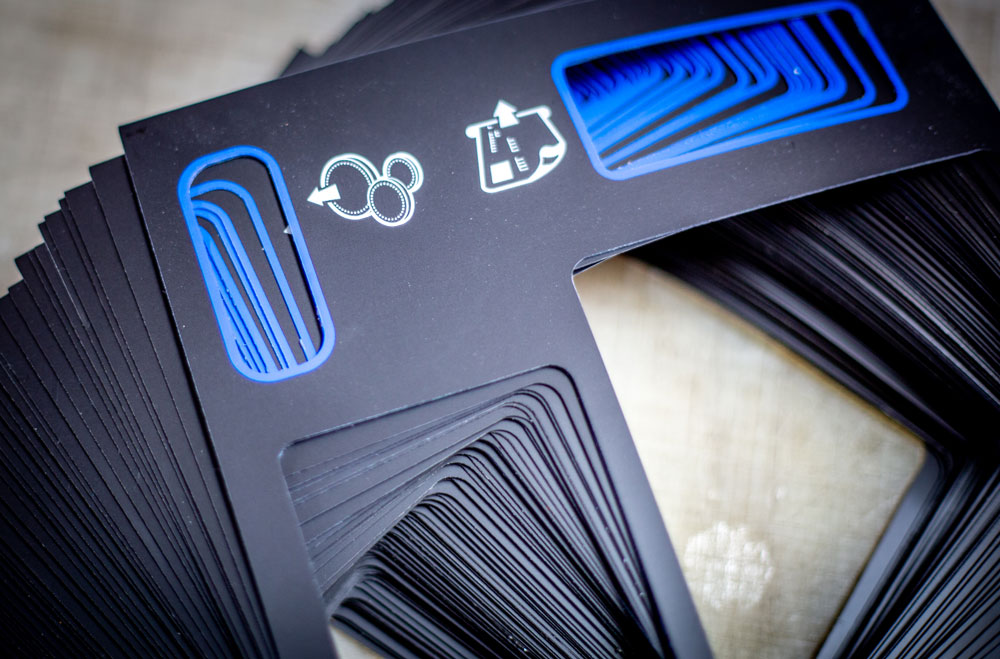 Next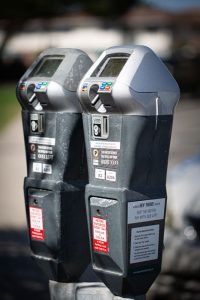 Previous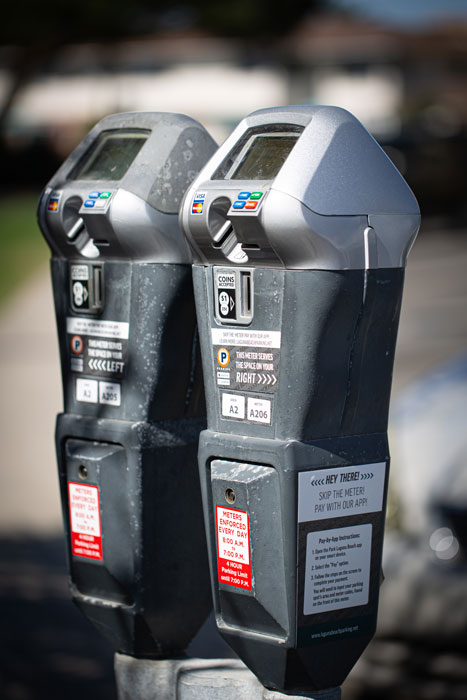 Next
Specs
Size

Ten uniquely shaped stickers 2.875″ x 2.25″ and smaller

Media

Engineer grade reflective

Color

2 spot colors: black & teal

Laminate

3M UV caste matte overlaminate

Adhesive

Permanent solvent adhesive

Durability
Work Required

Design
Printing
Applying transfer tape
Die-cutting the decals
Printer used
Work required