---
What are decals?
Decals by definition are printed designs that are transferred onto a surface such as glass, metal, porcelain, etc. The decals that we produce are printed on adhesive vinyl, and then applied to their surface with transfer tape. The vinyl we use for production is PVC based, which has permanent solvent glue that is durable enough to adhere to a surface for years, yet can be removed without damage to the surface.
What is the difference between a Decal, Label and Sticker?
In the printing world, decals , labels and stickers all mean the same thing. There is no difference. Professional printers usually use the term "decal" the most often. One could really split hairs, and say "label" is a more correct term for decals that have directions on them. "Sticker" might be the more appropriate term for a decal that is a promotional item, meant to be given out to people at events, and stuck to their shirts. People generally refer to them by what the destined use/purpose is, but to a printer; they are all printed on the same material, cut out to their unique sizes, and applied in the same manner(depending on the surface).

What type of decals/stickers do we produce?
Decals can be separated into two categories: die-cut decals and print & cut decals.  Die-cut labels use media such as adhesive vinyl that can be made into text or silhouette designs.  Print and cut decals incorporate a printed graphic that is machine-cut to your specifications.  Therefore the primary difference between die-cut decals & print and cut decals is employing the use of a printer to produce multi-colored graphics on print media. Both categories can use unique types of media to either adhere to special surfaces or to serve a function.
We produce the following decals:
What size decals can we produce?
Decals can be made into any size you need, big or small. We commonly print decals/stickers that are smaller than your finger nail, to decals that are bigger than an entire vehicle!
If a project needs a decal that is larger than 58" x 58", it will be printed on multiple panels and applied together seamlessly. Decals that have dimensions where both the length and the width are greater than 58.00", must be paneled. Decals or graphics that have a dimension less than 58 inches, can be printed entirely on one roll, which is roughly 60 feet long.
For example:
If you need a decal printed that is less than 58″ in one dimension, and any where from 1" to 60′ the decal will not need to be paneled because only one dimension exceeds 58", hence the graphic will fit on one roll. (Like the tall graphic pictured here)
However, if the decal is for a large advertisement, something like 168″ x 576″(14 x 48 feet, a common size for billboards) the decal will need to be printed on multiple sheets of vinyl because both the X and Y axis exceed 58".
What types of media/material can you use for decals?
There are many manufacturers of vinyl media that have different claims of longevity and function, but we primarily use 3M and Orafol due to the high reputation of these companies as well as the positive results we have experienced. However we will use any manufacturer by request of the client or for special circumstances.
The types of media we use are:
| | | |
| --- | --- | --- |
| Cast vinyl | Translucent vinyl | Holographic film |
| Calendar vinyl | Transparent vinyl | Chrome film |
| Air-release vinyl | Metallic series vinyl | Paint mask film |
| Reflective film | Fluorescent vinyl | Dry-erase film |
| Engineer grade-reflective film | Paint-mask vinyl | Glow-in-the-dark vinyl |
| Perforated window film | Carbon fiber | Camouflage vinyl |
| Double-sided vinyl | Etch film/frosted film | Metallized polyester film |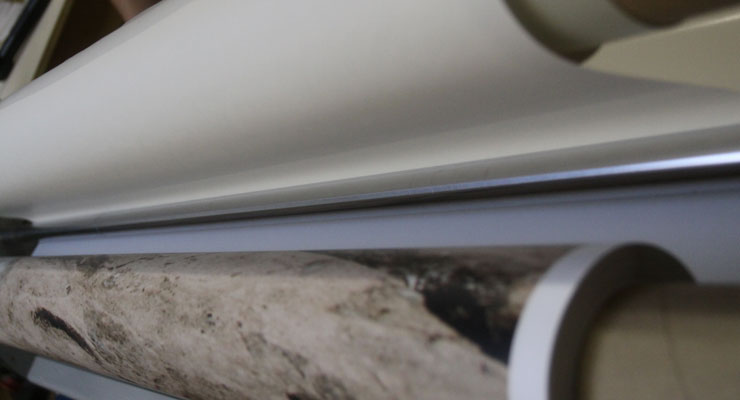 How do we print our decals?
Our decals incorporate two types of printing methods: thermal & solvent printing. We determine which printing method shall be used based on two factors: dimensions and colors. Thermal graphics use spot colors, which produce clean decals that do not use a CMYK process. Thermal graphics have a more stable UV life however you are restricted in terms of dimensions & full color images. Solvent printing can produce full color graphics or photos that utilize a 7 color process (C/M/Y/K/LC/LM/LK) and can be made into much larger decals.
How do we cut our graphics?
All of our decals can either be kiss-cut or perforated-cut depending on their usage.
What types of surfaces can decals be applied to?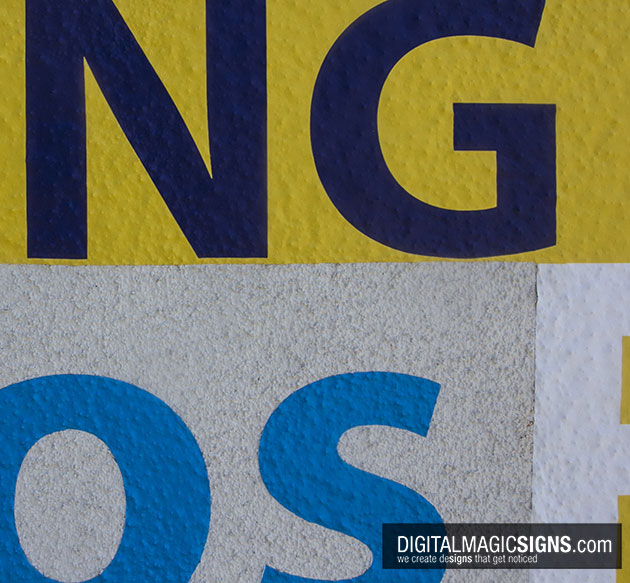 Traditionally, decals were limited to surfaces such as windows, metals, & plastics. In recent times, vinyl media technology has evolved for decals to be applied to a vast array of surfaces such as:
Vehicles
Carpet
Wall
Brick/concrete
Wood
VC based substrates
Windows
Mirrors
Metal and non-metal boards
Ceilings
Boats & recreational vehicles
ATVs & dirt-bikes
Fabric
Rubber
What type of artwork do I need to make a decal/sticker?
We have a high preference for vector-based artwork such as an AI or EPS file because these types of formats are scalable and easy to assign colors and cut-paths. (Read about the differences between vector & raster graphics). If you do not have access to vector-based artwork or any artwork for that matter, we can create or reproduce the artwork you need with a quick turn-around.
What are labels?
Adhesive labels have a primary purpose of giving information about an object.  Most labels we produce serve this function, which is divided into two categories: identification and liability.  Due to the importance of this task, manufacturers have developed many different types of media for either a particular function or to adhere to a wide array of surfaces.

What type of labels do we produce?
The labels we produce would be considered industrial strength due to the outdoor longevity of the media as well as the long-term UV stable printing method we employ.  The combination of high quality media coupled with thermal printing results in producing superior labels that last longer and look sharper than consumer grade paper labels.
With our unique printing method, we are able to utilize more type of media than other companies and thus produce labels to fit your needs such as:
| | |
| --- | --- |
| Custom labels | Sequential labels |
| Multi-colored labels | Double-sided labels |
| Silhouette-cut labels | Reverse-print transparent labels |
| Branding labels | Temporary labels |
| Security stock labels | Removable labels |
| 1D & 2D barcode labels | High-tac labels |
| Reflective labels | Medium-tac labels |
| Tamper-proof labels | Braille labels |
| UL labels | Anti-scratch labels |
| Holographic labels | Textured labels |
What types of shapes can the labels be made into?
Our labels can be cut into any shape you need due to our graphics being machine cut/plotted.  We do not cut our labels by hand nor employ a cut-template for two reasons: (1) these methods require more labor which drives up the cost of labels and (2) machine cut labels ensure the labels are consistent every time. Therefore it does not matter whether the graphics are squares, circles, or complex shapes—we can do them all.
What type of artwork do I need to make labels?
In general, we have a high preference for vector-based artwork such as an AI or EPS file to create labels. We prefer vector-based artwork because the graphics are scalable and are easy to assign different colors and cut-paths.  If you do not have vector-based artwork or any artwork for that matter, we can create or reproduce the artwork you need and then provide the artwork back to you for future projects.
Why are vinyl decals/stickers more advantageous than painted graphics?
Before printers were developed for commercial use, sign manufacturers solely used paint to create lettering and graphics for advertising. This method was very labor-intensive and restrictive to designers that were limited to certain font stencils and dimensions. The technological revolution has changed the dynamic in sign making from painted graphics to computer-generated designs that can be plotted and printed to the specifications of each client without a burdensome amount of effort.
Vinyl graphics have killed the painted sign industry nearly into extinction due to four main paints:
(1) Labor costs: The costs of painted signs is typically much more expensive due to jobs being significantly more labor intensive than vinyl signs. For example, window lettering for businesses used to be an all-day affair versus vinyl lettering which is machine plotted and can be applied within an hour or two at a fraction of the cost.

(2) Consistency: Printers and plotters use computers to generate designs and store information for future use. You can be confident that a vinyl sign you received a year ago will look exactly the same as one you order today.

(3) Design Capabilities: Prior to the use of printers and plotters, designers were inhibited in their ability to create volume signage because they could only utilize a handful of fonts that were further limited by dimensions. Computer generated graphics fuses the artist's concept with the means to mass-produce their designs with consistent results.
(4) Ease of Removal: The most persuasive argument for vinyl graphics is how easy graphics can be removed and exchanged without rigorous effort and damage to the surface. Typically, painted graphics needed to either be scraped off a surface or completely repainted, which is, not only time consuming but can result in much higher costs.