Project of the Month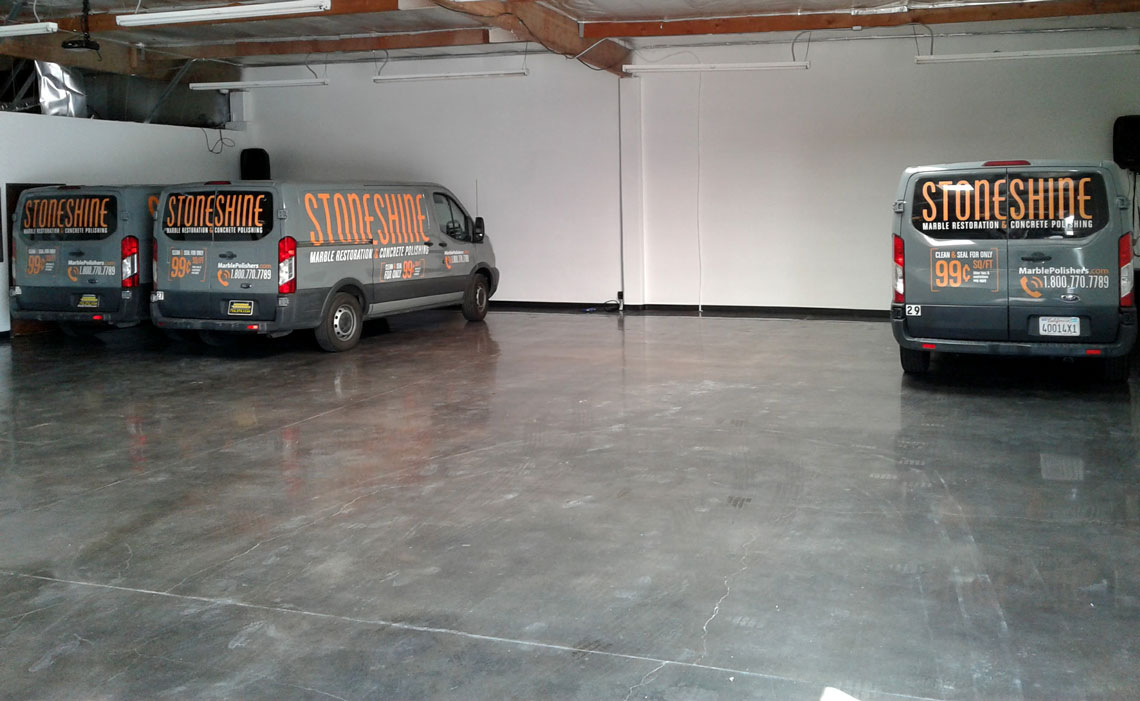 Stone Shine – Fleet Wraps
Project Description
Stone Shine Restoration had upgraded their fleet of cars and work trucks and they needed them all wrapped with eye catching graphics. Since we've wrapped a number of Stone Shine's old work vehicles, the owner asked us to design the graphics and wrap the new fleet of vehicles. Stone Shine has been repairing, polishing, & restoring all types of natural stone and concrete for over 20 years! They fix cracks, remove stains, and restore any floor, wall, or counter-top that is made out of concrete or natural stone(marble, travertine, slate, flagstone, limestone, etc) for homeowners and commercial businesses alike.
Stone Shine offers their stone repair services in: Los Angeles, Orange, San Bernardino, Riverside, & San Deigo Counties. With such a wide area of coverage they're smart to wrap their vehicles with advertisements. One truck with a full wrap can get over 30,000 impressions in just one day! Stone Shine has trucks for their work crews, and hybrid cars for their estimators. They needed over 7 vehicles wrapped quickly for their Orange County location.
Difficulties
Printing and wrapping vehicles with vinyl is what we do best, so it wasn't difficult for us to manage our time and resources to have all the needed cars and trucks wrapped by our client's deadline. What proved to be challenging was creating a fresh new design that would make our client's vehicles stand out the most. The owner was adamant on having completely new designs applied to his fleet of vehicles. So even though we had designed full wraps for Stone Shine's old vehicles, we couldn't use them, and we had to hit the drawing board from scratch. Our creative director spent some time drawing by hand, until he came up with a few rough sketches. Then he took the best two sketches and made mock-ups of them, which we shared with the client(who approved one with some feedback). After another couple rounds of design edits, and the final approval of the client, we were ready to print and wrap those vehicles.
Customer Reception
★ ★ ★ ★ ★
Size

4 vans with full vinyl wraps(pictured)
3 hybrid priuses full wraps
4 work trucks wrapped

Media
Color

7 Color Process CMYK LCMA

Laminate
Adhesive
Durability
Printer Used
Work Required

Design
Measurements
Printing vinyl
Applying transfer tape
Applying graphics on difficult to reach locations
Before, during, & after images
Specs
Size

4 vans with full vinyl wraps(pictured)
3 hybrid priuses full wraps
4 work trucks wrapped

Media
Color

7 Color Process CMYK LCMA

Laminate
Adhesive
Durability
Printer Used
Work Required

Design
Measurements
Printing vinyl
Applying transfer tape
Applying graphics on difficult to reach locations
Printer used
Work required