Orange County Trade Show Graphics
Stepping onto a trade show floor can be a daunting experience. Because so many businesses and organizations are trying to distinguish themselves from their competitors, the experience can lead to severe sensory overload. As someone running a booth at such an event, you therefore must consider how to make your own booth unique and appealing while avoiding overly ostentatious designs.
By working with a high-quality graphic design company, you can find such balance and help your booth make a lasting and positive impression. Remember, well-designed trade show graphics can make your booth interesting, inviting, and memorable without it being over-the-top or distracting.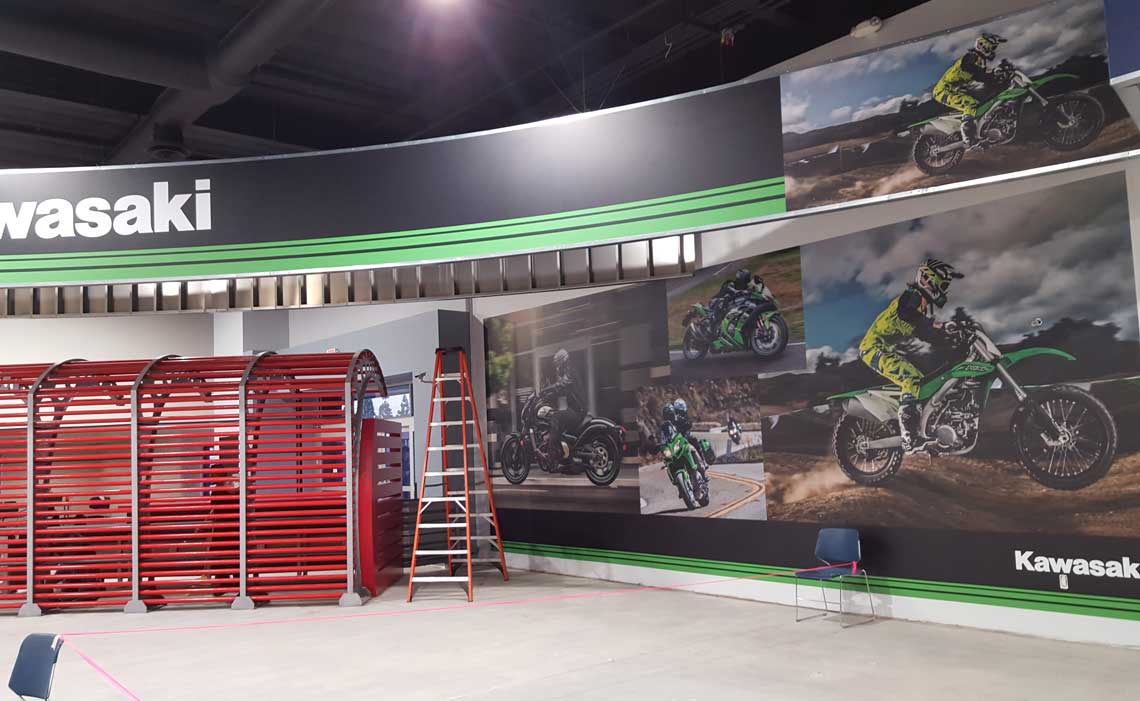 Below are some additional reasons for why trade show graphics are essential to taking your booth's appearance from blah to brilliant.
Make a Great First Impression:

The visual aspect of your booth is the first thing that potential customers will notice about your company at a trade show, which means that it needs to be immaculate. There are a variety of factors that go into designing a visually appealing and attractive booth, including colors, image quality, sizing and scaling, among others, all of which must be in agreement with one another to project an overall theme that says something important about your organization. Think of your booth as an extension of your logo—it provides clients with their initial glimpse into the nature of your products, services, and overall business.

Attract New Clients:

Do you remember the last time you became interested in a new hobby, product, artist, or event? Oftentimes, we only look beyond our current set of experiences when something catches our eye or ear and draws us in, whether we're looking for it or not. At a trade show, you want potential clients to be drawn to your booth even if you don't necessarily offer a service that they are actively seeking. By providing customers with an engaging and captivating experience, you will not only raise awareness about your product but likely create leads that precede new clients.

Demonstrate Your Values:

Does your organization specialize in repurposing old material to create new products? Is eco-friendliness associated with your company's values? Then make sure that these characteristics are represented in the nature of your booth display! High-quality graphic design and display teams will work with your business's mission and values to ensure that your booth is not only appealing to customers but will additionally make your organization's values evident and beautiful. Your booth can tell customers a lot about your organization, even if your clients don't consciously notice it.

Build Brand Awareness:

While it is important to draw new customers to look at and admire your booth, it is even more essential that these potential clients both remember your organization and feel compelled to utilize your services or purchase your products.

A high-quality booth display will leave your organization's name and services in the minds of potential customers, ensuring that yours is the first business they think of when they need your services, even if they generally work with another organization. By making a positive and professional impression, your booth raises awareness about your brand name, allowing you to compete more effectively with the competition.

Leave a Lasting Impression:

Though it may be the case that a potential client has little or no use for your organization at the time of visiting your booth, you want your business to be the first that they think of if a need arises in the future. By leaving a lasting, long-term impression, your booth ensures that future clients associate their developing needs with your business.
Orange County Signs
The next time your organization books a booth for a trade fair, consider using effective and eye-catching graphics to distinguish your organization from the competition. Make a positive and lasting impression on future customers and turn visitors into future clients.