Digital Magic Signs is available to assist essential businesses with COVID-19 signage in many different ways, for many different industries including restaurants, grocery stores, healthcare facilities, offices, etc. Our in-house production means we can create custom signs to fit your needs, at the speed you require.
The vast majority of businesses have had to change the way business is conducted or will have to change as more guidelines and regulations are being released, and the goals of reopening as quickly and safely as possible. These changes not only affect the internal side of companies but the guests and consumers they serve as well. Communicating these guidelines and expectations is a necessity to ease into this new unprecedented way of doing business, as well as assisting your customers to be self-sufficient as they navigate through these changes as well.
Hand-washing signage has been required for quite some time by Health and Safety codes. As we learn more about how Covid-19 spreads, detailed infographics showing the best way to maintain hygiene to protect yourself and those around you have become even more important to maintain a safe environment. Consider the difference between these two: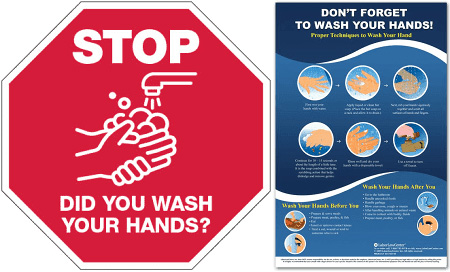 The mask mandate also falls into this personal hygiene category as regulations now require them when entering public facilities. You can take this opportunity to create custom signage to match your branding, as it seems we may need them for quite some time. We can create these for you with various materials for various surfaces (aluminum, brick walls, acrylic…), and in different languages, if needed. These can be displayed in lobbies, break rooms, offices, bathrooms… anywhere there are more people present or have a traffic flow of customers/employees.
Social distancing has been implemented at 'essential businesses' already, but many places will need to incorporate these new measures before the doors reopen.
We know this is an unprecedented time, and Digital Magic Signs is here to help your business thrive despite this difficult time. If you have any questions or need help with designing custom signs to be consistent with your brand, contact us.