Product Label Printing
If you were to walk down a supermarket aisle and search for your preferred product, what's the first thing that you would look for? Well, you would look for the label. That's how useful labels are, and in this article, we are going to look at how businesses can make the most of their labels for a wide range of purposes.
Labels are very important for businesses. They play a key role with regard to marketing and promotion. As we established it earlier, the number one thing that labels help customers with is identification. When customers go shopping, it's the label that gets their attention first.
This is why so many businesses focus on enhancing the way a label appears. A label offers all kinds of information to the customer and that's what he/she wants when choosing a product.
Functions of a Label
Let's explore some of the key functions that labeling offers.
1. Product description
Product labeling is primarily done to offer information about the product itself. For instance, if you were to purchase an edible item, you would notice that the label lists out all the ingredients used to prepare the food item. You might even find information about how to cook, consume, and even store the product.
Other than that, you are likely to find details such as the manufacturing date, date of expiry, net weight, nutritional information, and pricing.
Nutritional information is actually a mandatory requirement and you're likely to find one on every food label there is out there. This is to help people make healthier choices about the foods they consume. So, you could say, labels also help businesses become more accountable and responsible.
2. Advertising
Advertising is another function that labels provide. As discussed earlier, they help customers notice the product or brand. There's a reason why so much thought and effort goes into designing product labels. When you step into a supermarket and browse the aisles, you cannot deny that some products simply stand out because of their labeling. You might have even been tempted to pick up a product just because you found the label to be attractive.
In fact, it has been proven that the way a label looks can often influence the customer's buying decision. For example, simply using the right color can go a long way in convincing customers to choose your product.
In one study, it was found that, barring the problem of money, the visual appeal of a product had a 93% role in influencing the customer's choice. The study's subjects chose products purely on visual appeal, followed by other factors such as texture, sound, and smell.
To put it simply, it's the label that draws in the customer first. All other factors are secondary.
This is one of the reasons why even something as simple as color can be of significance when the question of label design arises. Colors are known to evoke certain emotions in people that impact the decision-making process. Customers may not consciously be aware of this, but their subconscious has already made the decision for them.
3. Grading
Quality grading is another key function that labels provide. Certain products are sold according to varying qualities. To facilitate this, businesses use labels to differentiate the quality level. For example, Johnny Walker sells its whiskeys under multiple labels such as Red Label, Green Label, Black Label and Blue Label. Each label denotes a specific quality.
4. Warnings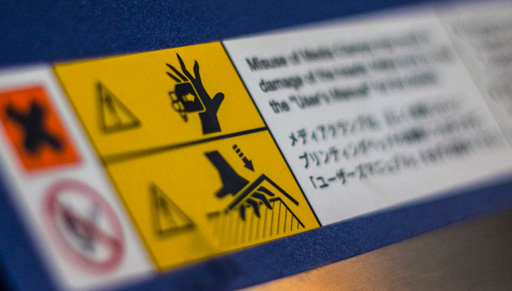 Warnings are another function of labels. This is usually for products that can cause some form of harm to the user. The simplest example of such a product is a pack of cigarettes. You're like to come across pictorial or textual descriptions on cigarette labels indicating the health issues caused by tobacco.
Similarly, we observe such labels on products that have toxic ingredients such as certain cleaning agents or pest repellents.
Creating a brand experience through labels
As we have seen, labels offer a wide range of functions. Now, as a business, you can go beyond these established functions to offer more to your customers through these labels. Doing this will ensure that your brand becomes more visible and that you retain customers.
For starters, you can incorporate your brand into items such as packing slips and how-to instructions. What some companies do is that they include these items into their product packages. So, when the customer finally unwraps the packaging, they find items that further their experience with regard to the brand and its product.
For example, Anker sends a card with its purchases that aim to build a connection with customers by requesting for their feedback. There are two sides to the card – a "happy" side and an "unhappy" side. Other than that, the card also includes information on how to send the feedback. It lists out options such as Amazon support, phone, and e-mail. It's a creative and innovative idea that helps the brand stay relevant.
Now, you could try doing something similar with labels. It doesn't necessarily have to be a card. By including such useful information, you would have proven yourself to be very valuable to the customer. Plus, incorporating this as part of your product label will also help you cut down expenses. Unlike Anker, you won't have to spend extra on printing a separate card.
Another interesting innovation in the area of label printing has been the inclusion of augmented reality, by using labels with QR codes and RFID chips. These labels are devised to help brands communicate and connect with their customers.
For example, a label with a QR code will take the customer to the brand's online platform as soon as he/she scans it with a smart device. This way, the customer gains the ability to interact with the brand on Social Media or even access detailed information about the product.
These labels can also be used for registration purposes. Instead of the customer having to go through the typical process, he or she can simply scan the QR code and have the product registered right on the showroom floor. Not only this simplifies the customer's brand experience but also factor in as a value-adding element. The result of that is a very likely preference for your brand in the future.
Connect the offline with the online
In a world dominated by the Internet, you can use labeling to connect offline brand elements with online brand elements. This will help you remain consistent with your branding messages and ensure that you are felt and heard wherever the customer goes.
Labels are a key part of your packaging and they represent your brand. So, learn to use them very wisely. Leverage everything that is available to you in order to make the most of your label. It doesn't necessarily have to be a technological marvel. Even something as simple as a recipe for a dish on a food product label can go a long way in creating that precious connection between your business and the customer.
To know more about how labels can be maximized to promote your products and establish your brand, get in touch with Digital Magic Signs.