Orange County Label Printing
Signs and decals are literally surrounding us in this day and age, we hardly notice them. It's easy to take them for granted, but a lot of work actually goes into making most of those graphics. There is also a lot of variance in the quality and durability of different decals. The materials and techniques used make a huge difference in how durable your finished decal/label is, and whether it is suitable for outdoor use.
Printing Durable Labels
UV Stable Eco-Solvent Inks
The most common problem with poorly made advertisements that are used outdoors, is that they fade quickly with exposure to the sun. This is because of the harsh UV radiation produced by the sun reacts with the inks used on the label or decal; in a problem known as UV degradation. The ultraviolet rays break down the chemicals of the inks, which causes colors to fade.
To prevent the colors from fading on your banners or labels, we only use the highest quality UV stable ink available. Various chemicals are added to make the ink solvents resistant to the sun's UV radiation. These chemicals act just like sunscreen in protecting against UV rays; they stabilize the chemical bonds of the inks preventing UV degradation. This is all done without compromising image quality.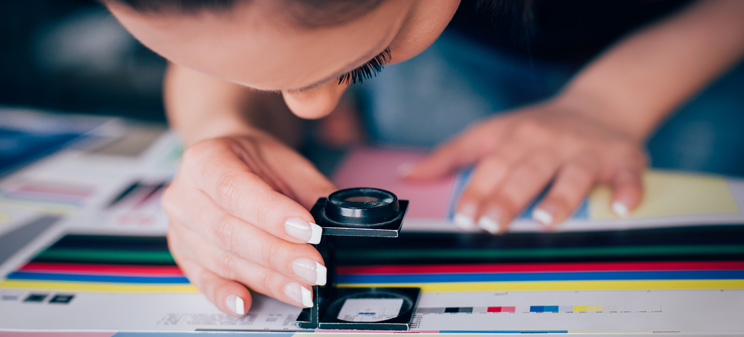 8 Color Printing Process
We use the most advanced printing process available because it produces: vivid colors, smoother gradients, richer black tones, and higher quality photos. Most print shops use either spot color(printing each color in layers, one color at a time), or 4 color printing for their label and decal printing. These color processes might be cheaper than using a variable 8 color printing process, but you sacrifice image quality.
By adding light cyan, light magenta, light black, & white inks to the normal CMYK(Cyan, Magenta, Yellow, & Black) printing process; we are able to produce more vibrant colors, reduce graininess in gradients, remove "banding", print deeper black tones, and more. We can even use specialty solvents like metallic inks, in place of light black or white. This allows us to print truly stunning outdoor labels.
High Quality Outdoor Laminates
Laminates can be made of various materials, but for printing purposes, the laminate we use is a thin layer of clear plastic. This laminate protects the graphic from scratches and from water damage. We laminate all of our labels/decals, unless a project specifically calls for no lamination(pretty rare). We do this because laminating your decals is going to prolong their life.
Applying the laminate perfectly can be a challenge. We have to lay the laminate across the printed labels, apply one corner of the laminate to the graphic, and then apply the rest of the laminate sheet to the graphic. To do this without any air bubbles forming between the label and laminate take patience and attention to detail. After the sheet of laminate has bonded to the face of the graphic, we can die-cut the labels to the needed shape.
Printing Substrates
A substrate is the material we print your graphics on. Most graphics are printed on sheets vinyl then cut to their destined shape. Vinyl is a plastic material that has tons of uses throughout our society. Printers use vinyl of different thicknesses depending on what you need your labels for. The thicker the vinyl is the more of a beating it can take. Which can make the increase in cost well worth it, for long term outdoor labels. If your decals or signs are only serving a temporary purpose, and aren't going to be reused, then it makes sense to go with a thinner vinyl substrate to print on.
Label Usage Outside
Labels(aka decals) and signs have tons of outdoor uses. Billboards are the first thought most people have when asked about outdoor decals, but we are literally surrounded by so many printed labels that they're practically invisible to us! Here are some of the most common uses for labels and signage in an outdoor setting.
City Decals
Cities have so many uses for different labels and signage, that it's impossible to list them all. Fire & Police departments use vinyl decals to wrap their vehicles. Cities frequently run their own advertising campaigns using outdoor signage and banners. Cities and other government agencies are run like businesses only they can be much larger sometimes. Cities still have to focus on their branding, and their marketing strategy just like any active business.
Directional signage
Directional signage or waypoint signs, come in all shapes and sizes, but their purpose is always the same; give people intuitive directions. The parks & rec departments will use waypoint signage to direct hikers around large parks. Large cities also use them to help drivers navigate their city, usually pointing to landmarks or popular hubs.
It's extremely important that directional signage is made to last for years in direct sunlight. A faded directional sign will reflect negatively on your park or city, and it might fail to convey the message it was created for.
User Interface Graphics & Membrane Switches
Most people have never heard of user interface graphics or membrane switches, but we can guarantee that you've seen and used them before. The differences between the two are slight.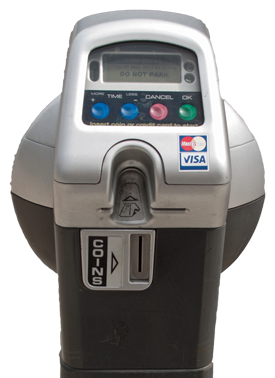 User interface graphics are decals that are applied to a machine that gives you direction on how to interact with the machine. Like the decals on the pictured parking meter that tell you where to insert coins, and which direction to insert your credit card. They tell us how to interact(interface) with the machine.
Membrane Switch graphics are decals that are printed directly on a membrane that is meant to interact directly with a computer/machine in a specific way. Like the pictured parking meter for example, it use membrane switches as buttons that allow people to increase the amount of parking time they need, as well as cancelling or accepting their transaction. The use of membrane switches on parking meters made paying for your parking with a credit card possible. Membrane switch decals are widely used in everyday life. They can be found on household appliances, on industrial machinery, and countless other uses.
Membrane switches and user interface graphics are used on: ATM's, parking meters, vending machines, digital cameras, kitchen appliances, construction equipment, industrial machinery, printers, computers, air conditioning units, hospital equipment, and the list goes on. Regardless of your use for these decals, you should make sure you use a high quality print shop to make them. Especially if you are going to use them in an outdoor setting, you'll want them to keep their color for a long time.
Window Stickers
Window decals have a wide variety of uses. Brick and mortar businesses can utilize their window space for advertisements, branding, and "badges"(like your A+ rating with the BBB, or your yelp ratings). Decals have long been used on cars. Whether they are bumper stickers or window stickers these graphics let you advertise your business, or promote your school or favorite sports team. Apartment complexes can issue static cling window decals as parking passes for their residents. The list of uses for outdoor window decals really could continue, especially when you take different types of decals into consideration.
Normal window decals can be have their adhesive on either side, or they can be double-sided. We also print static cling decals, which don't use any glue to stick, and don't leave any residue when they are removed.
Another popular type of window decal is perforated window decals. These decals have 1000's of small holes punched throughout the sheet of vinyl. These holes allow you to see through the graphic easily, but the graphic printed on the outside of the decal remains visible to people looking at it. These perforated decals also reduce the sunlight that shines through the glass, which can be desirable in an office building, or the back seat windows of a car.
Outdoor decals
Decals can be print and cut to almost any size and almost any shape. For years and years, decals could only be applied to substrates that were smooth and solid like: a sheet of metal, or a gator foam board. Today, because of advances in the sign industry by giants like 3M, we can now successfully apply decals to rough, porous surfaces; like concrete, brick walls, carpet floors, and stucco.
California Outdoor Signs & Decals
If you need outdoor signage whether it's labels or wide format wall decals, you want your decals to be able to withstand the sun's harsh rays day after day. So make sure you print your graphics with UV stable inks, and laminate your decals.
If you're a business owner or a city manager you'll only have so many opportunities to invest in your brand and your customers perception of you. If you are using signage outside to engage your audience, you want to make sure it's not going to fade in the next 5-7 years.