In layman's terms, DPI refers to the density/amount of information per square inch. 72 DPI is acceptable for online viewing. Industry standards dictate an image should be at least 300 dpi to produce brochure printing or product packaging. If you're interested in producing an image any larger, you'll need at least 400 dpi for a high-quality print; resulting in a clearer, more detailed output. Standards for DPI include:
Minimum 72 for computer screens/ online viewing
Minimum 300 for good quality printing such as business cards or brochures
400 and above for high-quality printing such as vehicle graphics or banners
Resizing an image from an online source that already has low DPI will not work due to the lack of information included in the file, the program will try and guess how to fill in the blanks after the image is stretched and will result in a low quality, pixelated/grainy image. When discussing DPI it's important to note that the software is NOT the printer. If the printer is capable of 400+ dpi and the software is providing less, the quality of the print will be compromised due to the lack of information provided by the file. One more important point, referencing "image size" vs "file size" are two different things. Image size is referring to the image's dimensions, while file size is how much space the image takes up on a hard drive (kilobytes or megabytes).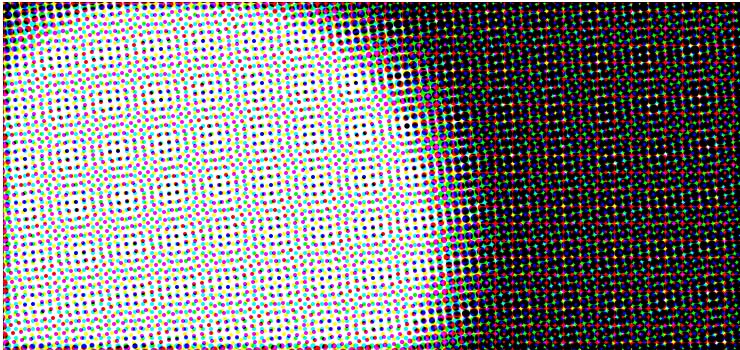 DPI is defined as 'dots per linear inch' of an image (2.54 d/cm), a reference to information density relative to physical size.
For example, if we have a computer screen which is 1280 pixels wide, this means the screen has a max of 1280 different color dots that can be shown across the width. If the screen is 21", that means for every inch, we can fit about 61 color dots. 1280 different color dots, divided by 21" (for the screen width) = 61 DPI. DPI is typically used for images, photographs and visual files destined to be printed or utilized on a screen.