Professional Printing
Simply put, flatbed digital printing is the process of transferring digital images onto another material using inkjet printing. Although this is mostly done on plastic or paperboard, an assortment of materials can be printed on including cloth, wood, and glass.
In your search for the definition of flatbed digital printing, you have probably come across the term "substrate". This term basically refers to the material onto which the digital image will be printed.
It's important to keep in mind that, as with any type of graphic printing, the better the quality of the original, the better the end print. However, there are ways that the end result can be improved—ask your printer for assistance with image enhancement.
Another issue that many customers are concerned about is speed. Remember that the faster the printing process, the lower the quality. Most businesses would agree that it is worth the wait to receive the highest quality final product possible.
How can flatbed digital printing help my business?
An advantage of flatbed digital printing is that it offers a completely custom look due to the fact that you can print onto a variety of substrates including aluminum, PVC, glass, wood, and many others. With more options available, this leads to better and more creative signage solutions. Whether you need a wood cutout of your brand's spokesperson or a customized glass logo to display in an entrance, flatbed digital printing will do the trick.
Due to the wide range of substrates and their varied thickness, it is important to keep your business and brand in mind in order to select the option that works best for your project.
Your business can also benefit from flatbed digital printing due to the fact that it is cost effective for small volumes because cutting and mounting onto a second substrate is not required—thus curbing time and labor costs and saving you money!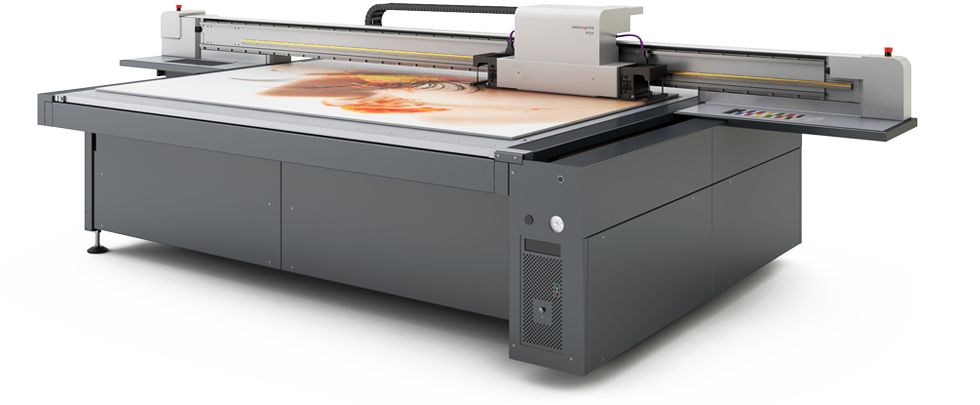 In today's world, it is possible to create incredibly high quality prints because of the quality of ink and print-heads available. For example, the use of white ink produces a vibrant print that can make your logo stand out regardless of the color or quality of the substrate.
With flatbed digital printing, millions of colors can be printed in a single pass, creating pinpoint image detail. Images are sharp and color saturation is enhanced because the ink hardens onto the substrate and seepage is greatly reduced.
Plus, UV inks offer a greener option and are safer for the environment. Flatbed digital printing also provides UV resistance, which means the ink will not fade from exposure to the sun for an extended period of time.
All of these advantages point to one thing – variety. Your business is no longer limited to the same old signage methods. You are now able to display versatile signage to effectively target your clients at a lower cost. Flatbed digital printing provides you with the ability to opt for the signage that works best for your business and brand.