Whether you're putting vinyl on your car for advertisements or you want a vehicle restyling to change the look of your vehicle, the reality is the same: keeping graphics on your vehicle for too long will damage your paint! But in order to comprehend the pros and cons of this investment, you must consider what factors lead to graphics being damaged as well as what you can do to mitigate these undesirable consequences. 
In order to understand what is considered 'too long', we need to elucidate factors such as region, quality of the vinyl film, vertical vs horizontal panels, and vinyl colors and styles.
Region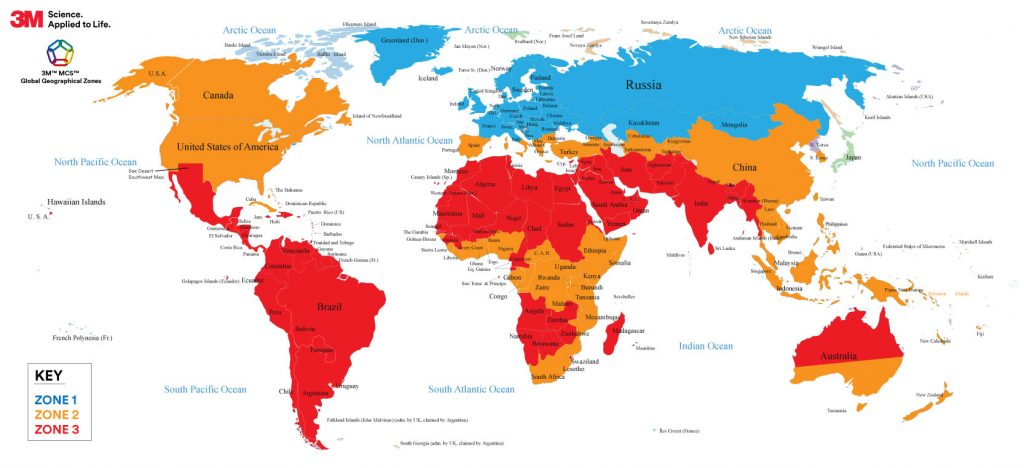 Manufacturers of vinyl film such as 3M, Avery, Orafol, & Arlon all have outdoor durability guidelines that distributors use to set guidelines for how long the graphics will last. However, depending on temperature, humidity, and most importantly sun exposure. The below image is provided by 3M to illustrate the zones for outdoor durability. Manufacturers will advertise the blue zone's outdoor durability however you need to pay attention to the small print and try and stay within their guidelines.
Quality of Vinyl
There are two types of PVC vinyl, calendar, and cast. Economy wrap and graphic films are almost always calendar films. Cast films involve a more extensive manufacturing process for vinyl conformability, vinyl memory, but mainly for outdoor resistance to UV rays. To put it simply, you pay for what you get so don't try to save money initially because, in the long run, you'll need to replace these graphics sooner which will end up costing more money in your overall costs.
Vertical vs Horizontal Panels
Vinyl longevity is broken down by where you apply the film in relation to its exposure to UV rays. Your hood and roof are considered horizontal panels, their outdoor durability is about half the life span of vertical panels which would be doors and rear fenders. Horizontal panels will start deteriorating at a faster rate than vertical panels so it's wise to replace these panels at the first signs of UV deterioration.
Vinyl Colors & Styles
The longevity of your graphics will be drastically influenced by the color, finish, and style of your vinyl. For example, 3M produces a wrap film series called 1080 but not all of their options are created equal–a 3M satin/gloss black film will last 2-3 times longer than a matte metallic film. There are too many factors to identify for this occurrence so I'll keep this simple: if you want your decals to last as long as they can, stay away from matte metallic colors.
What Can I Do To Extend The Life Of My Vehicle Wrap?
In order to extend the life of your wrap, you need to keep in mind the main killer of vinyl longevity is UV rays. Keeping your wrap out of the sun is the easiest way to extend the life of your wrap however that is sometimes impractical. To aid in protection in the sun, waxing your vehicle with a non-teflon based wax will extend the life of your gloss film. If you have a matte or satin wrap, we recommend a product called meticulous matte detailer by Chemical Guys. Besides waxes and sprays, we recommend budgeting the replacement of horizontal panels when evaluating your overall costs of vehicle graphics and films.
When Should I Remove My Vehicle Wrap?
It's much better to be proactive on this question than when it's too late. In order to get ahead of potential paint damage, it's better to start thinking of removing those panels when the wrap is starting to discolor. If you're unsure if the vinyl has discolored significantly enough to warrant removal, consult a professional and get their opinion. If the wrap hasn't started discoloration but you see that the sheen is being altered or even worse, the vinyl starts cracking, you need to remove the vinyl as soon as possible. Once the film starts cracking then removal becomes much more difficult and typically an expensive endeavor that requires professional assistance.